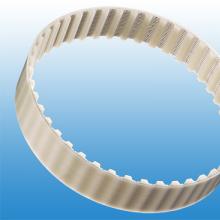 T5 & T5-DL Standard CONTI SYNCHROFLEX®
Polyurethane, steel reinforced, cast truly endless, standard T Profile to DIN 7721 in metric pitch with trapezoidal toothform.
CONTI SYNCHROFLEX® timing belt T5/T5 -DL
Standard T profile to DIN 7721 with metric pitch and trapezoidal toothform. The technical data refer to standard polyurethane and standard steel cord tension members.
Available versions:
Single-sided
With E tension member for increased flexibility
With Aramid tension member
Polyurethane special materials upon request
Antistatic, coloured, mechanical reworked
Special polyurethanes upon request
Antistatic, coloured, machined, ground and punched belts
Backings
Technical Specification
T5 – Allowable tensile load by belt width
Belt width
Belt width
6
10
16
25
50
Tension member loadings
Fadm(N)
180
330
570
930
1920
Belt weight
kg/m
0.017
0.027
0.043
0.068
0.135
Standard lengths (mm)/Number of teeth
| | | |
| --- | --- | --- |
| Length | No. teeth | Stock lengths |
| 100 | 20 | |
| 150 | 30 | |
| 150DL | 30 | |
| 165 | 33 | |
| 180 | 36 | |
| 185 | 37 | |
| 200 | 40 | |
| 210 | 42 | |
| 215 | 43 | |
| 220 | 44 | |
| 225 | 45 | |
| 225 FN90 | 45 | ◯ |
| 245 | 49 | |
| 250 | 50 | |
| 255 | 51 | |
| 260 | 52 | |
| 260DL | 52 | |
| 270 | 54 | |
| 280 | 56 | |
| 295 | 59 | |
| 300DL | 60 | |
| 305 | 61 | |
| 330 | 66 | |
| 330DL | 66 | |
| 340 | 68 | |
| 355 | 71 | |
| 365 | 73 | |
| 390 | 78 | |
| 390 FN1 | 78 | ◯ |
| 400 | 80 | |
| 410 | 82 | |
| 410DL | 82 | |
| 420 | 84 | |
| 455 | 91 | |
| 460 | 92 | |
| 460 FN4 | 92 | ◯ |
| 460DL | 92 | |
| 480 | 96 | |
| 500 | 100 | |
| 500 FN10 | 100 | ◯  |
| 505 | 101 | |
| 510 | 102 | |
| 510 FN1 | 102 | ◯ |
| 515DL | 103 | |
| 525 | 105 | |
| 525 FA | 105 | ◯ |
| 525DL | 105 | |
| 545 | 109 | |
| 550 | 110 | |
| 560 | 112 | |
| 575 | 115 | |
| 590 | 118 | |
| 590DL | 118 | |
| 600 FN24 | 120 | ◯ |
| 610 | 122 | |
| 615 FN24 | 123 | ◯ |
| 620 | 124 | |
| 620DL | 124 | |
| | | |
| --- | --- | --- |
| Length | No. teeth | Stock lengths |
| 625DL | 125 | |
| 630 | 126 | |
| 630 FA | 126 | ◯ |
| 650 | 130 | |
| 650 FA | 130 | ◯ |
| 660 | 132 | |
| 660 FN30 | 132 | ◯ |
| 690 | 138 | |
| 690 FA | 138 | ◯ |
| 690 FN3 | 138 | ◯ |
| 700 | 140 | |
| 720 | 144 | |
| 725 | 145 | |
| 750 | 150 | |
| 750DL | 150 | |
| 765 | 153 | |
| 780 | 156 | |
| 800 | 160 | |
| 800 FN2 | 160 | ◯ |
| 815 | 163 | |
| 815DL | 163 | |
| 840 | 168 | |
| 840 FN84 | 168 | ◯ |
| 860 FN1 | 168 | ◯ |
| 860DL | 172 | |
| 900 | 180 | |
| 920 | 184 | |
| 925 | 185 | |
| 925 FN1 | 185 | ◯ |
| 940 | 188 | |
| 940DL | 188 | |
| 990 | 198 | |
| 990 FA | 198 | ◯ |
| 990 FN4 | 198 | ◯ |
| 1075 | 215 | |
| 1075 FA | 215 | ◯ |
| 1100 | 220 | |
| 1100DL | 220 | |
| 1160 | 232 | |
| 1160 FA | 232 | ◯ |
| 1215 | 243 | |
| 1215 FN1 | 243 | ◯ |
| 1215 FN54 | 243 | ◯ |
| 1315 | 263 | |
| 1315 FA | 263 | ◯ |
| 1325DL | 265 | |
| 1350 FN1 | 270 | ◯ |
| 1380 | 276 | |
| 1380 FN1 | 276 | ◯ |
| 1440 FA | 276 | ◯ |
| 1500 | 300 | |
| 1500 FA | 300 | ◯ |
| 1525 FN1 | 305 | ◯ |
Preferred belt width in (mm) 6, 10, 16, 25, 32, 50. Other dimensions upon request.
✓ Available
◯ Available on request
– Unavailable
DL double-sided
FA with bigger back thickness
FN with profiles on the back of the belt
Drive Type A
Type A
T5
Zmin
10
dmin
30
Drive Type B
Type B
T5
Zmin
15
dmin
30
Zmin = Minimum number of teeth. dmin= Minimum diameter (mm)