Standard Products
TransDev has one of the largest selections of power transmission products in the UK.
You can currently browse our website and catalogues and order via the phone, fax or email. You can access our online flipping book version of the Range Catalogue by clicking here.
For Special Belts and Manufactured products we can produce drawings and help you with your specification, before confirming final costs.
Warehouse Investment
Our 6 Kardex® machines have enabled us to provide storage capacity of 31,200 m² out of a footprint of only 444 m².
A machine holds 46 shelves, with each single shelf measuring 2500mm x 860mm and capable of withstanding weights of up to 500kg each.
99% picking accuracy levels are achieved due to the Integrated pick-to-light technology automatically informing the operator of the location, description and quantity to pick. (Kardex)
Machine storage keeps components clean, dust free and dramatically reduces the risk of damage.
Static racking is still essential for products unsuitable for storage within Kardex®
TransDev has over 1,600 m² of static racking, hence requiring 2 x Order Pickers and 3 x Forklift Trucks that allow quick and easy access to such storage.
Delivery
Next Day express Delivery is available on many standard lines. Order in stock, standard components before 4.30pm to be dispatched the same day to UK mainland locations. Next day delivery cannot always be guaranteed but we always do our best to meet your requirements. Special Belts also enjoy excellent on-time delivery performance:
Next day delivery possible on jointed belts ordered as late as 4:30pm
Profiled, Wide and Backed belts normal lead-time from 1–2 weeks
Backed belts typically from 5-7 days
Breakdown express cell delivery from 24 hours
Rework from standard products from 3-5 days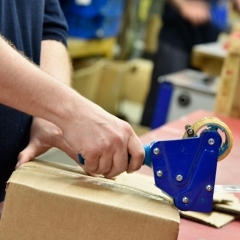 Sales
Competitive pricing
Knowledgeable, efficient and friendly staff
96% of all calls answered within 20 seconds
Stocks
Over 44,000 separate products held in stock, equating to over £4m.
98% in-stock ratio
Quality
All our products originate from only the very best sources from around the world
No where else will you find a range of so many market leading brands
All backed up by ISO 9001: 2015
Delivery
Stocked standard products ordered before 4.30pm ship the same day.
Some of the cheapest shipping rates within our industry.