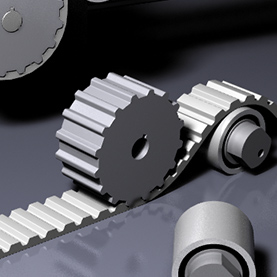 T3/8″ (L) BRECO® Open Length (M)/Joined (V)
Polyurethane, steel reinforced, extruded open length & joined. Classic imperial pitch with trapezoidal toothform.
BRECO® timing belts T3/8″ (L)
Polyurethane, Steel reinforced, joined & open length belting
Available types for T5-M
Single-sided
Nylon tooth facing (PAZ)
Nylon back facing (PAR)
Nylon tooth facing (PAZ)
Nylon both facing (PAZ/PAR)
Special polyurethanes upon request
Antistatic, coloured, machined, ground and punched belts
Drive Type A
Type A
T3/8″ (L)
Zmin
15 (20)
dmin
60
Drive Type B
Type B
T3/8″ (L)
Zmin
20 (25)
dmin
60 (80)
Zmin = Minimum number of teeth. dmin= Minimum diameter (mm)
Values in brackets apply to jointed timing belts.
Belt widths (mm) Intermediate belt widths on request
9.53
12,7
19,1
25,4
38,1
50,8
76,2
3/8″
1/2″
3/4″
1″
1.5″
2″
3″
| | |
| --- | --- |
| T3/8″ (M/V) | Available lengths and versions |
| Standard delivery lengths (M) | Rolls of 50 or 100m |
| Cut to lengths/lengths > 100m | On request |
| Minimum length joined (V) | 880mm |
| Standard material | TPUST1) |
| Steel tension member (standard) | x |
| E tension member | – |
| Stainless Steel tension member | – |
| PAZ | x |
| PAR | x |
| PAZ-PAR | x |
| DL/DL-PAZ | – |
| DR/DR-PAZ | – |
| T/T- PAZ | – |
x   Available, standard lengths (see table) without minimum purchase
o   Minimum purchase amount on request
–   Not available
1)   Further materials on request
Technical Specification
T3/8″ (L) – Allowable tensile load by belt width
Belt width
b (mm)
9.53
12.7
19.1
25.4
38.1
50.8
76.2
Tension member loadings
M
630
840
1260
1680
2520
3500
5040
V
315
420
630
840
1260
1750
–
Belt weight
kg/m
0.033
0.044
0.066
0.080
0.133
0.178
0.266