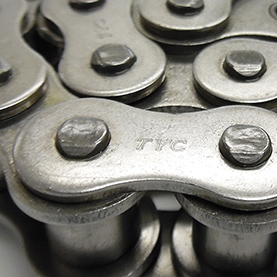 TYC Nickel Plated ASA 25, 35, 40, 41, 50, 60, 80 & 100 to ISO 606
Chain
no.
Pitch x Width
(P x E)
roller
pin
Links
Avg. ulti.
tensile strength
Approx. weight
Conn. Links
D1
C
B1
B2
D2
T1
T2
H
F1
F2
inch
mm
mm
mm
mm
mm
mm
mm
mm
mm
mm
mm
kgf
kg/m
Q25NP*
1/4 x 1/8
6.35 x 3.18
3.30
3.89
4.80
—
2.32
0.76
0.76
4.80
5.01
5.81
420
0.13
ABDEF
Q35NP*
3/8 x 3/16
9.525 x 4.78
5.08
5.81
7.01
7.66
3.59
1.28
1.28
7.46
7.80
9.04
1050
0.32
ABDEFG
Q40NP1
1/2 x 5/16
12.70 x 7.92
7.92
8.16
9.36
10.56
3.98
1.49
1.49
11.17
10.41
12.06
1830
0.62
ABDEFG
Q41NP
1/2 x 1/4
12.70 x 6.35
7.77
6.64
7.93
8.43
3.59
1.28
1.28
9.06
8.50
9.90
1250
0.41
ABDEFG
Q50NP1
5/8 x 3/8
15.875 x 9.52
10.16
10.15
11.55
12.32
5.09
2.01
2.01
13.84
13.01
15.08
3000
1.01
ABDEFG
Q60NP1
3/4 x 1/2
19.05 x 12.70
11.91
12.63
14.00
15.43
5.96
2.38
2.38
17.75
15.64
18.09
4085
1.45
ABDEFG
Q80NP
1 x 5/8
25.40 x 15.88
15.87
16.38
18.38
20.05
7.94
3.18
3.18
22.60
20.82
24.13
7955
2.55
ABDEFG
Q100NP
1 1/4 x 3/4
31.75 x 19.05
19.05
20.04
–
23.90
9.54
3.99
3.99
27.45
26.03
30.16
11500
3.95
ABDEFG
1 Also available in Duplex.    *For Chain No. QASA25NP and QASA35NP, D1 = Bushing diameter.
Nickel-plated chains can be supplied in most other sizes and types of TYC chains, including attachments.
In this case chains may only have 80% of the tensile strength.
NB: Some of the items on this page may be non-stock. Please contact our Sales Department for confirmation.
Connecting links
| | | |
| --- | --- | --- |
| | | |
| A Spring clip | B Cotter pin | D Rivet link |
| | | |
| E Double crank | F Roller link | G Crank straight link |